Masih seputar game balapan series Need for Speed (NFS) yang memang diketahui sudah punya banyak versi sejak perilisannya tahun 2000-an. Salah satunya bernama NFS Carbon Own The City yang dirilis pertama kali pada tanggal 31 Oktober tahun 2006. Electronic Arts Black Box selaku pengembang game ini, tetap mengusung tema balapan mobil yang garang di jalanan.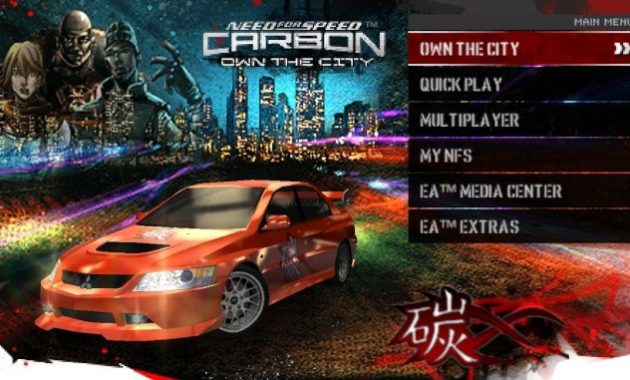 Tidak ada waktu untuk bersantai, mobil harus tetap melaju dengan kecepatan penuh jika tak ingin jadi yang terakhir. Keseruan game ini makin bertambah karena memiliki alur cerita. Yaitu seorang pembalap liar bernama Cross yang tinggal di kota Palmont memutuskan untuk kabur dari kampung halamannya. Cross sedang mengalami hari buruk karena dipecat dari departemen Rockport Police. Lalu apa yang selanjutnya akan dilakukan oleh Cross? Temukan jawabannya hanya dengan memainkan game seru ini di sini.
Detail Informasi tentang Aplikasi Game
Nama game: bernama Need for Speed Carbon Own The City
Ukuran file: 200 mb
Kategori game: Need for Speed (NFS)
Jenis game: balapan mobil
Rilis game: tanggal 31 Oktober 2006
Dikembangkan oleh: Pocketeers, Electronic Arts Black Box, dan Team Fusion
Diterbitkan oleh: Electronic Arts
Platform game: Zeebo, PSP, Game Boy Advance, dan Nintendo DS
Gameplay
Game yang admin bagikan nggak akan mengecewakan karena selalu seru dan asik untuk dimainkan. Sama seperti halnya permainan yang satu ini. Makanya jangan sampai kamu ketinggalan dan melewatkan kesempatan untuk download aplikasi game secara gratis hanya di sini.
Nah, kalau kamu sudah nggak sabar ingin memainkan game ini, langsung aja deh tekan tautan yang admin sediakan. Download sampai selesai dan install gamenya seperti cara di bawah ini.
Cara Menginstall Aplikasi Game
Tekan tautan downloadnya, dan ikuti prosesnya sampai selesai
Hasil download harus diekstrak, bisa menggunakan PC atau aplikasi yang didownload di playstore seperti rar for android, winrar, zarchiver, dll
Untuk memulai permainan, kamu harus membukanya lewat aplikasi emulator
Kemudian cari file game hasil ekstrak
Selamat bermain!
Game Lainya:
Mudah kan? Makanya jangan kelamaan berpikir, mending langsung aja download, install, dan mainkan. Nanti nyesel loh kalau nggak ikutan main game ini. Terakhir, admin mau bilang terima kasih sudah mampir dan membaca artikel di portalplaygame.com, semoga kamu suka dan mau berkunjung lagi besok, lusa, dan seterusnya. Sampai jumpa lagi ya!
Download Links
ISO [200MB]
Savedata[87kb]